Mahaveer Bhagwan Marble Moorti
Mahaveer Bhagwan Black Marble Moorti
| | |
| --- | --- |
| Brand | Hira Lal & Sons |
| Material | Marble |
| Color | black |
| Description | We are offering Mahaveer Bhagwan Black Marble Moorti to our clients. We provide this product multifariously and the size/dimension and the quality of the product may vary as per the customer's requirement. |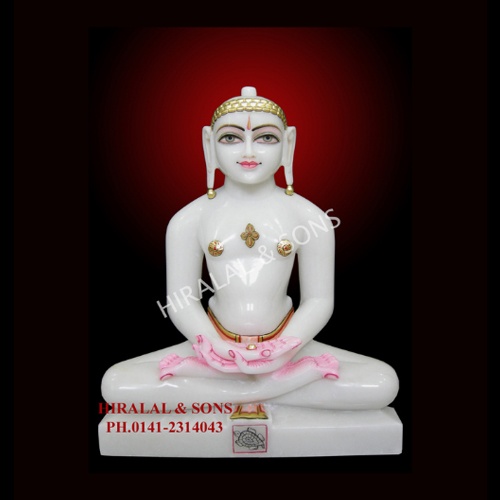 Mahaveer Bhagwan White Marble Moorti
| | |
| --- | --- |
| Brand | Hira Lal & Sons |
| Material | Marble |
| Color | White |
| Description | We are offering Mahaveer Bhagwan White Marble Moorti to our clients. We provide this product multifariously and the size/dimension and the quality of the product may vary as per the customer's requirement. |
Mahaveer Bhagwan Marble Moorti
Mahaveer Bhagwan is the great hero of Jain followers. We carve and design Mahaveer Bhagwan Marble Moorti using premium quality marble that is tested for its varied features. These statues are available in various dimensions and as per the specifications of the clients. This statue offered by us is used as decorative models in various places. These are widely appreciated for their long lasting nature, durability and perfect finish.
Hiralal & Sons devote to Manufacture Lord Mahaveer Bhagwan Marble Moorti as lord of wisdom and prosperity. We are one of the largest manufacturer and exporter of Mahaveer Bhagwan Marble Moorti in Jaipur. We deal in different types of White and Black Mahaveer Bhagwan Marble Moorti. Our Designer Mahaveer Bhagwan statues are precisely designed by our expert craftsmen who understand the needs and specification of customers. Customers can avail an extensive range of Mahaveer Bhagwan Marble Moorti from us that are manufactured using fine graded marbles. Our talented designers have crafted these Statues keeping in mind the important points of requirements and need of our clients. These products are highly admired for their long lasting shine and excellent finishes.
These statues are intricately designed to give them proper finish and evoke a spiritual feel. our Marble Mahaveer statues are kept at various Hindu homes as a symbol of fortune, peace, happiness and prosperity. Mahaveer Bhagwan Marble Moorti crafted by us give a real spiritual touch. Shri Mahaveer Bhagwan Marble Moorti having largest demand in India and other parts of the world.