Marble Statues Manufacturer in Jaipur
Hiralal & Sons is established in 1899. We are considered to be among the top Marble Statues Manufacturers in Jaipur of the moorties. The products are all of an exquisite finish, beautiful striking designs that are unique, eye-catching, and intricate patterns, smooth texture durable tensile strength and long durability, and dimensional precision. We are hand-carved, have beautiful looks, a smooth finish high-end quality, ingenious range of patterns and designs according to the preferences of customers, and are affordable and artistically designed. We have superior durability, flawless finish, and long-lasting life. We are also simple to maintain.
Innovative new products are added every now and then to provide a greater variety and acceptance by clients. All attention is given to quality from the procurement of raw materials, through the manufacturing of products to the final delivery and finishing.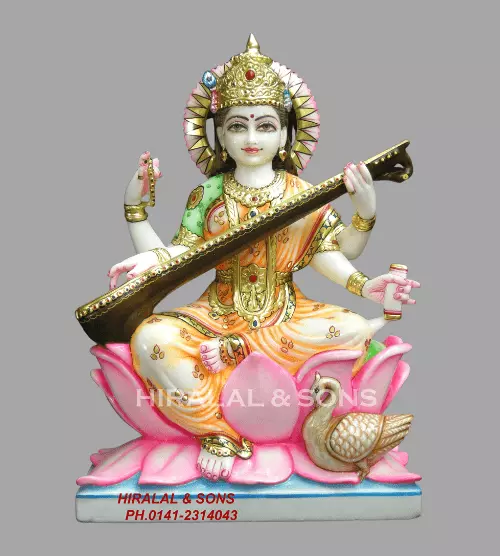 What is Marble?
Marble is among the first materials employed in human art and in the building industry. Ancient civilizations utilized marble as a material to make artifacts made of marble. Marble sculptures from us are the ideal addition to your home's needs. We provided a wide variety of marble statues that are suited to your preferences. We can be placed on statues in your Temple, Home, or in the office. We've provided a high quality with a variety of dimensions, colors, and designs that can be incorporated into your garden to look stunning. Our gorgeous sculpture will catch the attention of your guests. This marble statue made by a manufacturer shows the most advanced technology.
If you're ready to take your interior design to the next step. This is the perfect piece for you. Each sculpture is meticulously cut. The final work on the statues will be spectacular. Finding the perfect home decor isn't easy, but Hira Lal and Sons God Idol Statue Manufacturer in Jaipur can make it simple for you. Bring a splash to your Temple by putting up marble statues.
Book An Appointment
God Idol Statue Manufacturer in Jaipur
The Hira Lal and Sons, Jaipur is the most dependable and well-known company in the market for marble moorti in Jaipur, Rajasthan, India since the year 1899. We are among the top marble murti producers exporters, suppliers, and suppliers of Marble God Statues and Goddess Idols Human Bust and marble handicrafts and other stone artifacts made of marble and objects. Our designers create stunning God Idols made of marble.
Our collection includes a huge assortment of Marble God Statues of Lord Ganesha, Radha Krishna, Lord Krishna God Idols Lord Vishnu, Laxmi Narayan, Ram Laxman Sita Vigraham, and Ram Parivar Idols in white and black marbles.
The Hira Lal and Sons, The Hira Lal and Sons guarantee to provide you with the top high-end Idols & Marble Statues at an affordable price.
Best Marble Statues Manufacturer in Jaipur
We, Hira Lal and Sons, are the sole Marble Statues Manufacturer in Jaipur, Exporter, and Supplier of all types of Indian Religious Marble Statues, Marble Murti (Moorti), Indian God Idols Marble Human Statues, Marble Human Bust Statue, Marble Sitting & Life-size Standing Human Statues, God Statues and handicrafts, Marble temples, garden statues, decorative objects.
The company Hira Lal and Sons at Jaipur with the intention of feeding the old Indian art and preserving this ancient art. It is the "Hira Lal and Sons" situated in Jaipur is regarded as the principal manufacturer, Exporters, and Supplier of the wide variety of Marble Moorti and Marble Statues throughout the world.
We produce and export a variety of kinds of Marble Murti of Lord Ganesha, Buddha, Bhagwan Mahaveer Swami, Jain statues, Maa Durga, Radha Krishna, Ram Darbar, Shirdi Sai Baba, Veer Hanuman Ji, Vishnu Laxmi, Laxmi Narayan, Shiva Parvati Parivar, ISKCON Deities statues and all other Marble God Idols and Sculptures.