Ganpati Marble Statue in Jaipur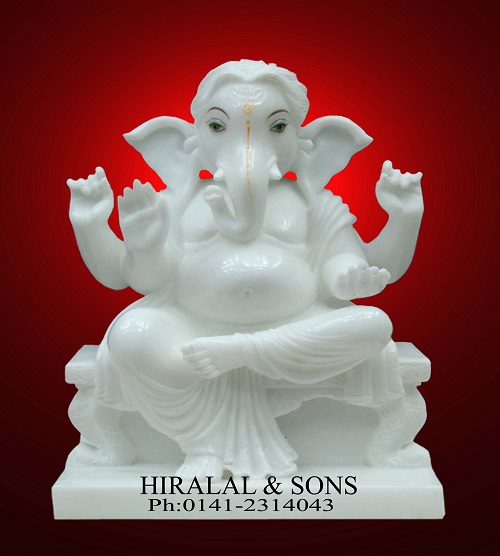 Ganpati Marble Statue in Jaipur
Ganesha is also often referred to as Ganapati, Vinayak, or many other names. He is one of the most well-known and revered gods within the Hindu pantheon. His image is seen everywhere in the world. Hindu religions revere him, regardless of their affiliation. The devotion to Ganesh is widespread and extends even to Jains and Buddhists. We can manufacture an extensive range of Lord GaneshMarble Statue as well as Lord Ganesha Statue Lord Ganesha Marble Statues, Ganesha Lalbaugcha Raja in Marble, Ganpati Moorti, and Marble Ganesha Statues.
Hiralal & Sons devote to manufacturing the Lord Ganpati Marble Statue in Jaipur as the lord of prosperity and wisdom. We are among the leading exporters and producers of the Ganpati marble Statue in Jaipur. We provide a variety of White and Black Ganpati Marble Statues available in Jaipur. Our designer Ganpati Marble Statue has been meticulously made by our skilled artisans who know the demands and requirements of the clients. Customers can choose from a wide selection of Ganpati Marble Statue in Jaipur from us. They are made with the finest graded marbles. Our talented designers have created these Statues considering the most important aspects of the requirements and demands of our customers. Their lasting shine and exceptional finish admire us.
Features:
Made from high-quality colours
Attractive design
Water Resistant
White Marble
Attractive shades along with design
Kundan(moti) works
The statues are designed with care to give them a professional appearance and create a spiritual feeling. The White Ganpati Marble Statue in Jaipur is kept in different Hindu homes to symbolize luck, peace, happiness and prosperity. Ganpati Marble Statue, created by us, has the impression of a spiritualist. Shri Ganpati Marble Statue in Jaipur is the most sought-after in India and worldwide.